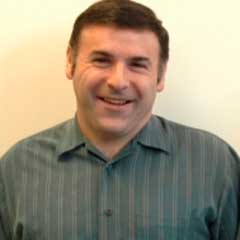 Mike
Bartolacci
Ph.D., M.B.A., B.A.
Professor of Information Sciences and Technology, Penn State Berks
Education
Ph.D. Industrial Engineering (Concentration: Information Systems) - Lehigh University, M.B.A. - Lehigh University, B.A. Engineering (Concentration: Industrial) - Lafayette College
Biography
Dr. Bartolacci is Professor of Information Sciences and Technology at the Penn State Berks College. He also teaches IST, SRA, and Cybersecurity classes for the College of IST through its World Campus degree programs.
Research Interests
Dr. Bartolacci conducts research in Telecommunications/Network Modeling, Knowledge Management, Applications of Information Technology to Emergency/Disaster Planning and Management, and Cybersecurity. He is editor of the International Journal of Mobile Network Design and Innovation. He also coedits the International Journal of Interdisciplinary Telecommunications and Networking.He is the former chair of the INFORMS Technical Section on Telecommunications and Network Analytics and has chaired the IEEE sponsored Wireless Telecommunications Symposium multiple times. He has participated in several grants including such areas as Cybersecurity Education and Freight Transportation Planning. He has been invited to speak at universities and conferences in various countries across the world including China, Denmark, England and Germany.