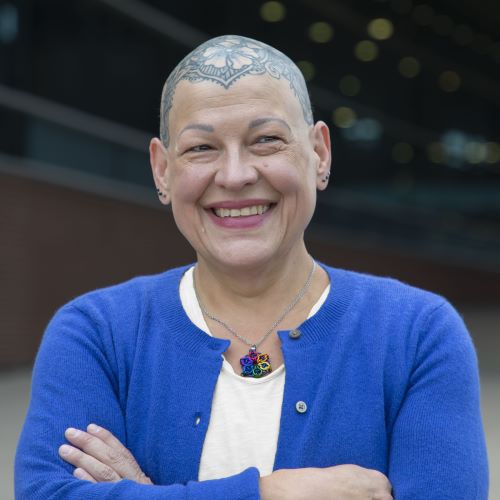 Andrea
Tapia
Associate Dean for Research
E380 Westgate Building
University Park, PA 16802
Education
Ph.D., Sociology, University of New Mexico, Albuquerque, New Mexico, 2000
Biography
My expertise is social research methods and social theory, my training is in sociology, and I apply this expertise and training to the study of information and communication technologies (ICT) and their context of development, implementation and use. I am an elected leader in both of my home academic communities, the American Sociological Association and the International Association for Information Systems for Crisis Response and Management. My international reputation is visible in the following: organizing and leading two large and two small international workshops and conferences; $3.7 million in external funding that has resulted in 12 completed MS and PhD theses; 40 journals articles, 60 peer-reviewed conference proceedings, and 12 book chapters. I have been an invited speaker at 31 conferences or events and presented at 73 conferences. My teaching is showcased in the 12 different courses I have led for my College at the undergraduate, Honors and graduate levels. I have served as chair of 16 graduate student committees, 6 master's theses and 10 Ph.D. dissertations. Seven of these ten Ph.D. students have already graduated and gone on to take jobs in the academe or industry. I have also served on 50 graduate student committees. I expect this trajectory to continue in the coming years.
The contribution of my scholarship is carried forward through detailed studies of critical social problems in today's world, with a specific focus on the take-up, uses, and effects of information and communication technologies relative to public social issues. The results of my work have contributed directly to the policy-making bodies of the United Nations, the Obama Administration, and the largest international relief and development organizations globally. All of my recent work investigates the great potential role that social media data might play in local community resilience, crowdsourced early warning systems, and the organized response to emergencies and disasters.
Research Interests
I am a scholar of "Public Informatics" a phrase I coined to situate my work at the intersection of people, information, and technology in a public setting. My Public Informatics scholarship focuses on problems faced by public and non-profit institutions and their work toward a public good. The institutions that concern me are those that serve our most basic needs for post-disaster and emergency aid, safety and security, science and education and telecommunications. I am most attracted to problems that are endemic to the public sphere: the lack of and management of scarce resources, sharing materials and information; and, increasingly the need to play competitively alongside private industry. Technologies play a role in both the creation of these problems and in potential solutions.
I am most well known as a scholar of Crisis Informatics, a subset of Public Informatics. Crisis Informatics is the study of information discovery, needs, use and sharing in disaster or crisis settings. Disaster response organizations operate in conditions of extreme uncertainty. Uncertainty increases the need for information, but at the same time, research has shown that the amount of operational information flowing through an organization during a disaster can be overwhelming. Appropriate information and communication technologies could make substantial improvements in the disaster relief process and ultimately save lives.
My work has made three contributions in this space. First, I have identified unique network structures and barriers that exist in this form of technical crisis coordination in the disaster-relief sector at various levels of participating organizations. Influencing science, 53 publications and presentations that have resulted from this work. Influencing practice, findings have been influential in creating principles and best practices for over 300 Humanitarian Information Managers worldwide through a partnership with the United Nations Office of Coordination for Humanitarian Affairs (OCHA). Honoring this work, the outcomes received the Outstanding Paper Award in 2013 from the Emerald Literati Network Awards for Excellence. Second, I contribute to the solution of one of the stickiest problems currently facing disaster response organizations—the organizational inability to take advantage of an abundance of citizen-produced social media data. Despite strong evidence as to the value of social media data during a crisis, there are numerous challenges to adoption of this data, including issues of reliability, verification, deception, quantity and translation of reported observations to responders. My work makes a direct contribution to practice by enhancing the ability of crisis responders to make use of crowdsourced data with a high level of confidence. The outcomes of this work of this work have lead to 12 publications; leadership roles in the ISCRAM conference and professional organization and several invited keynote addresses in Sweden and Costa Rica. Thirdly, in partnership with the National Labs at Los Alamos and NASA's Goddard Space Flight Center, I have created Aurorasuarus, a citizen science project that encourages public participation in improving space weather science through interest in the aurora borealis. Most importantly, this research has led to implications for using crowdsourcing techniques for improving early warning systems in disaster response.
Research Keywords
Crisis and Disaster Informatics
Community and Civic Informatics
Citizen Science and Crowdsourced Informatics
Social Media and Social Data Analytics
Social Theories and Social Methods of Information