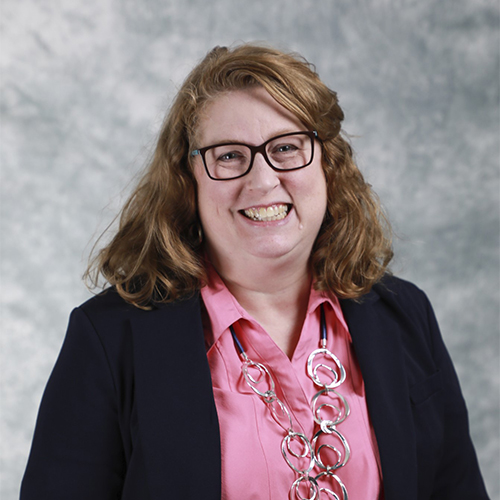 Amy
Garbrick
Ph.D.
Director, Learning Design
E103 Westgate Building
University Park, PA 16802
Education
Ph.D. in Learning, Design, and Technology (LDT), Penn State
M.Ed. in Instructional Systems (INSYS), Penn State
B.S. in Education, Penn State
Biography
Amy Garbrick is the Director of the Office of Learning Design, College of Information Sciences and Technology, Penn State - University Park campus. Amy has managed the design and development of over 100 courses for five award-winning online programs:
Masters of Professional Studies (MPS) in Information Sciences
MPS in Homeland Security
MPS in Enterprise Architecture
BS in IST
BS in SRA (Security and Risk Analysis)
Amy works on improving teaching and learning in distance, blended, resident, graduate, and undergraduate courses within the College of IST. Previously, she was a Senior Instructional Designer and eLearning Coordinator with the Office of Learning Initiatives. Previously, she was an Instructional Designer and eLearning Coordinator with the IST Solutions Institute where she designed and developed courses for corporate partners as well as for the IST undergraduate program. Amy has taught IST 111 and IST 110 both online and in Resident Instruction numerous times. Prior to her work at IST, she was an Instructional Designer with the Penn State Smeal College of Business R.I.I.T. (Research, Instruction, and Information Technology) Group. She was also a Microcomputer Systems Consultant with the R.I.I.T. Group within Smeal College with experience in networks, hardware, software, website design, and databases. Amy serves on various University-wide teaching, learning, technology, and online education committees.
Research Interests
Amy's current research focus is on the use of online discussion forums as well as online collaborative concept mapping tools to enhance learning. Amy is interested in the use of "Push" notifications, or Nudges, within a Learning Environment to increase engagement in online discussion forums, as well as the use of Social Network Analysis (SNA) to analyze online networks of learners. As an aspect of her research on LMS tools, Amy has taught the same course in all of the Learning Management System (LMS) Pilots at Penn State including Blackboard (twice), Canvas (twice), MoodleRooms, Desire2Learn, and Pearson, as well as the former PSU LMS in use called ANGEL. Amy is very interested in the use of LMS tools to enhance teaching and learning. She contributed to a think-aloud research study examining Canvas UX.