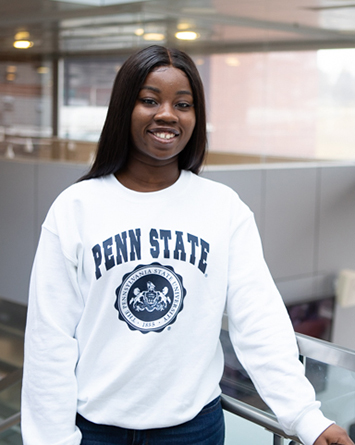 Fast Facts
Program: B.S. in Security and Risk Analysis (Class of 2022)
Hometown: Philadelphia, Pennsylvania
Favorite thing about IST: We are a smaller college, but we are mighty. We have so many opportunities and a great community full of support.
Favorite thing about Penn State: Not being limited. There are so many opportunities outside of IST. Everyone is able to make connections with different people and explore multiple paths.
Most memorable Penn State moment: Traveling to the ACM Richard Tapia Celebration of Diversity in Computing. I was able to meet so many different people and create connections. Traveling with WIREDIN made it feel like a family trip. It was so nice celebrating each other and our achievements.
Favorite Creamery flavor: Chocolate Chip Cookie Dough
Her passion for helping others combined with her love for technology led Tiffany Bass on the path toward IST. After learning more about Penn State in high school through the University's Student Minority Advisory Recruitment Team and falling in love with campus, she knew that she wanted to pursue her undergraduate degree at Penn State.
Building relationships
Tiffany enjoys IST's small, interactive classrooms and the one-on-one instruction she receives in her courses. She is also appreciative of faculty who provide access to unique professional development opportunities. She encourages students to build relationships with faculty to take advantage of these resources.
"Professors encourage us to go to office hours, and we do go frequently. Oftentimes we get emails about internships that only professors have access to. A lot of them had jobs for organizations like the FBI and CIA, so they have these resources to provide us, which is really awesome."
An interdisciplinary environment
Along with the talented people she's met and the academic support she receives, Tiffany is thankful for the unique programs the College of IST offers.
"Whatever you're looking for, you can find it here. That's one of the reasons I chose Penn State – even though other universities had programs related to IST, they didn't offer exactly what I wanted to do. Penn State's IST program gives you the option to do exactly what you want to do and even narrow your focus within many different domains."
Takeaways for future careers
As a Presidential Leadership Academy scholar and student in the College of IST, Tiffany has learned valuable knowledge that she will carry into her future career. However, one of the most important things she's learned is that it's OK to ask for help.
"I've learned that it's OK if I don't know how something works. I had to realize that's why I'm here in college, to learn. I feel like mentors, both inside and outside of IST, keep me motivated. Sometimes, life gets stressful when a code doesn't work, or I face a personal problem. But there are people who have been here for a long time who may know more than you and have more wisdom to whom you can go for help."