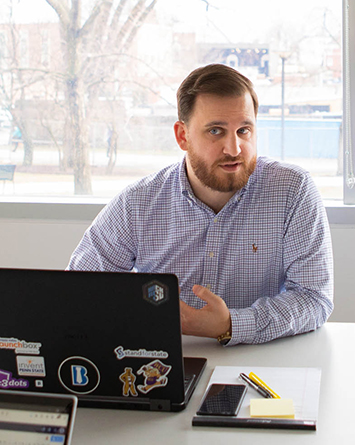 Fast Facts
Position: Assistant Director of Student Engagement, Office of Undergraduate Recruiting and Student Engagement
Hometown: West Chester, Pennsylvania
Favorite thing about IST: The innovation and desire to grow that each IST student shows in their work and goals.
Favorite thing about Penn State: The way Penn State students, staff, faculty, and State College residents all support each other as one community.
Most memorable Penn State moment: First meeting the college's student leaders at the IST Student Organization Retreat shortly after I started my position.
Favorite Creamery flavor: Peachy Paterno
Making college both educational and fun
In his role at the College of IST, Steve has the unique experience of making connections. He helps students connect through student organizations that match their academic and personal interests, and he oversees the many engagement opportunities that students can find outside the classroom.
"By getting involved, students can transform their time on campus. They can enhance the classroom curriculum and diversify their education with experiential learning. And they can build their networks by connecting with students, alumni, and employers who can help them grow as people and professionals. Students should take advantage of everything the University has to offer because college should be as fun as it is educational."
Involvement opportunities
There are many opportunities for students to get involved within the College of IST and across Penn State that will enhance their educational experiences and prepare them for their future careers. Steve said that he loves to help students find experiences that not only meet their social needs but also help them to develop critical skills.
"Students are here to pick up skills and learn about a specific major, but they may realize that leadership development, project management skills, and communicating with others are equally as important to the technical skills that they're learning. Those are all things that students can practice and strengthen through cocurricular activities."
Finding a perfect fit
With student organizations, research opportunities, and education abroad programs, the College of IST offers a variety of out-of-the-classroom experiences. For Steve, the ultimate reward is when a student finds the right opportunity to connect their interests and goals—helping a large University feel even more like home.
"Students will know they've found an opportunity that's right for them when they feel comfortable with students engaging with the same experience, but they feel challenged by the work they are doing. This usually means that they're learning, and that's the goal of getting involved in the College of IST."