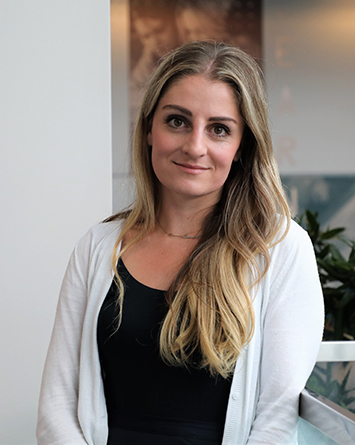 Fast Facts
Position: Assistant professor of IST; Penn State's Rock Ethics Institute research associate
Favorite thing about Penn State: I feel very fortunate to have a home in both the College of IST and the Rock Ethics Institute, affiliations with the Center for Social Data Analytics, and a prior home in the math department. The many smart, creative, and inspired people I interact with every day push me forward.
Sarah Rajtmajer's research integrates computational game theory, graph theory, and machine learning with applications to social and biological phenomena. Her recent work aims to characterize and model behavior within evolving social networks, both in the abstract as evolutionary games on structured populations and in applied, data-driven scenarios related to privacy decision-making, deviance, and abuse.
Applying math to IST research
After earning a doctoral degree in mathematics from the University of Zagreb in Croatia, Rajtmajer became an Intelligence Community Postdoctoral Research Fellow at Penn State's Applied Research Laboratory and a Postdoctoral Scholar in the Department of Mathematics at Penn State. She then became a consultant to the Defense Advanced Research Projects Agency. Now, as a member of Penn State's faculty at the College of IST, she continues using math in her research.
"Broadly, I use applied math to try to understand social phenomena. Lately, I'm particularly interested in the processes by which information is shared online—and relatedly how these processes support or degrade shared values like privacy and trust."
The impact of online environments
Rajtmajer's research is timely with the ever-growing development and demand of social media in daily life.
"Increasingly, people are turning to the internet, especially social media, as a primary source of news, entertainment, friendship, and support. Governments and organizations will rise and fall based on their ability to understand how individuals and groups shape and are shaped by these online environments."
Nurturing curiosity
Describing herself as "a moth to a flame" regarding her research focus, Rajtmajer says her curiosity, along with the support she receives, motivates her to continue expanding her knowledge.
"My development as a researcher has evolved somewhat in parallel with the development of social media, big data, and the second wave of AI. I am fascinated with, and simultaneously terrified by, the impacts of data-enabled tech in society."