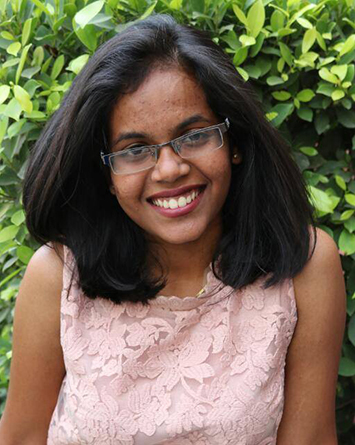 Fast Facts
Program: Ph.D. in Information Sciences and Technology
Position: President of the Graduate Student Association of IST
While the traditional college experience and many affiliated extracurricular organizations are often aimed at engaging undergraduate students, Sahiti Kunchay knows first-hand that graduate students are also seeking social outlets from their research and studies. That's why Sahiti, who is pursuing a doctoral degree at the College of IST, joined the Graduate Student Association of IST (GIST) when she arrived at Penn State. The organization shares practical resources for graduate students to ensure individual and collegiate success, as well as facilitate social and intellectual communications, connections, and support. Currently, Sahiti serves as GIST's president.
Unique opportunities to connect
With events like bowling nights, career tip seminars, and talks by representatives from top tech companies, GIST provides unique social and professional development opportunities tailored to IST graduate students.
"All graduate students in IST are inherently a part of GIST. But by becoming more active within the organization, as well as communicating with its leaders, I connected with other graduate students and obtained information and tips on how to succeed as a graduate student in IST, both personally as well as professionally."
Advancing academic work
Sahiti says GIST has been a great platform for her to find potential collaborators that have helped to advance her work and enrich it with different perspectives. Through the organization, she has also built personal friendships and strengthened relationships with fellow students, many of whom have helped her to grow in her academic journey.
"Seeing people like me succeed through personal and professional growth has been tremendously inspiring. Being given the chance to learn from the experiences of a vastly diverse set of individuals has also been extremely enlightening. IST is wonderful like that. With such a diverse student body, you can find something new to learn from almost everybody."
Finding community
According to Sahiti, graduate students at all stages of their academic journey and with different research interests can also benefit from the connections made in the graduate student community.
"Given the diverse research interests of the student body here, you can almost always find a complementary perspective to work with. It is important for graduate students to communicate with one another and find a community within IST, and I think GIST facilitates that. We set up events that help them build the necessary skills as they mature as graduate students."