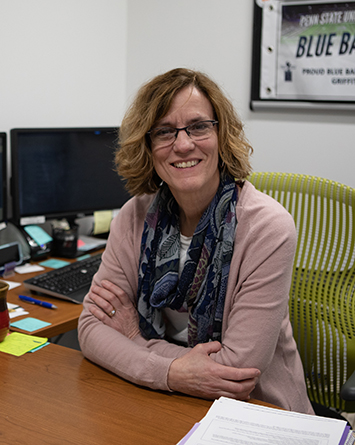 Fast Facts
Position: Assistant Director of Professional Development, Office of Career Solutions and Corporate Engagement
Hometown: Spring Mills, Pennsylvania
Favorite thing about IST: The people I work with–faculty, staff and students. I have heard so many students comment, and I agree–everyone cares! We care about our students and we care about each other.
Favorite thing about Penn State: Community and the opportunity to learn. I am always so impressed that continued learning is not only important for students but for faculty and staff. There is always something new to discover.
Most memorable Penn State moment: Being nominated to be a member of the Faculty Staff Homecoming Court for Homecoming 2018. It was truly an honor to represent IST at this event.
Favorite Creamery flavor: I love almost all of them, but especially Death by Chocolate and Peanut Butter Cup.
For the last nine years, Rita Griffith has been helping College of IST students strengthen their resumes, develop interview skills, and build their professional networks. She says that the best part of her job is helping students successfully navigate the path to launch their own careers.
"The most rewarding thing to me is working with students and seeing the excitement of their success. It is so exciting when students come in and find their confidence. It's powerful to be able to help them believe in themselves."
Standing out from the crowd
With more than 300 companies visiting campus and posting jobs to recruit College of IST students each year for internships and jobs, Griffith says that the blend of skills that IST students can emphasize on their resume helps them to stand apart.
"In my opinion, there are a lot of ways to get into the industry, but the College of IST provides students with an elevated foundation. It is four years of not only investing in learning technology, but also in learning more broadly through Penn State's requirements within humanities and other general education subjects. That thought process, the ability to think on so many different levels, and to be exposed to so many different perspectives is invaluable. With so many different students, Penn State offers such rich cultural experiences. That creates a huge impact when students find themselves on teams in the workplace, helping them recognize the impact of inclusion and diversity."
Practice makes perfect
Throughout her career, Griffith has helped countless College of IST students navigate the process of completing the college's internship requirement—from identifying potential employers to assisting with resumes and conducting mock interviews. All of this is invaluable practice for when students are seeking full-time positions.
"I think the college has done a favor for all of their soon-to-be alumni by making completion of an internship a requirement to graduate. Not only do students get to practice going through the application, interview, and even the rejection process, but it gives them the opportunity to explore and gain insight. Even a bad internship can be a great internship because a student may discover that path is actually something they don't want to do the rest of their career."
Success begets success
In addition to being a great resource, Griffith offers wisdom to the students she works with. She also encourages all College of IST students to take advantage of the resources that her office provides.
"The industry is becoming more competitive. Students really need to polish the skills of being able to market themselves. They need to have an explorer mindset and have conversations with people in the industry, with alumni, and with their parents and their friends. They should go to information sessions and networking events. Just do something. It's not just going to happen; it takes work."
At the end of the day, Rita is a parent of her own college-aged children and celebrates the accomplishments of the hundreds of College of IST students she works with as if they were her own.
"We as parents try to teach our kids how to navigate this process, but sometimes hearing it from a different voice can make an impact. I tell my students, 'You're all my kids. Your success is my success.' That's what I want at the end of the day—to help encourage and reinforce messages that students have been hearing since before they got to college."