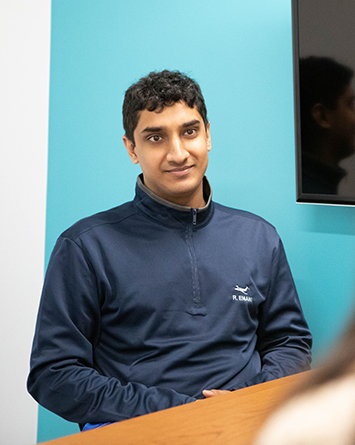 Fast Facts
Program: B.S. in Cybersecurity Analytics and Operations (Class of 2022)
Hometown: Phoenixville, Pennsylvania
Favorite thing about IST: The opportunities it presents. I have been a part of several outreach programs that IST has run, and I love that IST has its own career fairs for students the college.
Most memorable Penn State moment: Traveling to Seattle for the SIGITE poster presentation in October of 2019. It felt good being across the country representing IST and Penn State in an ACM conference.
Favorite thing about Penn State: It feels like home. I am proud to be a member of the Penn State community. It is gigantic, but still provides me with a tight knit community of students and professors in each individual college.
Favorite Creamery flavor: Alumni Swirl
As an undergraduate researcher, Rahul has unique opportunities to enhance his learning outside of the classroom. His focus—working with Raspberry Pi and ARM processor devices—is something he became familiar with at a young age. He brought that foundation with him to Penn State and the College of IST, where he launched a new organization for students interested in emerging technologies, called EMTECH. The club is inspired by some of his publications, such as a paper he presented at the research Special Interest Group on Information Technology Education conference in 2019.
Starting early
Even though Rahul has been innovating with technology since he was a kid (he created a Raspberry Pi controlled garage door when he was just 14), he is eager to reap the benefits of pursuing his interests at a world-renowned University like Penn State.
"I hope to gain the curious mind, one that is always hungry for more learning and really curious about how things work. I want to go branch off and keep publishing. I think that's one of the things that I've seen kick-start in me, and I hope to pass that on to more students here. Undergraduate research will stand out on a resume because it shows how engaged you are at Penn State."
Advancing tech and helping others
Rahul's research aims to aid IT education by advancing aspects like network defense labs using Raspberry Pi. Ultimately, he hopes that his work can make an even bigger impact.
"I think that getting involved with research early helps the faculty grow and helps the student population become more curious and inquisitive. That's the effect that I plan on having at Penn State; I want students to be more focused and inquisitive, ask more questions, and go pursue their own research interests."
Working with experts
To guide his research in the College of IST, Rahul has taken advantage of the college's abundant resources and interdisciplinary connections.
"Coming here, I realized that the broad spectrum of faculty backgrounds, especially in IST, leads to many different types of research across a wide array of disciplines. At IST, you're likely to find a faculty member who is interested in what you're interested in, whatever those interests may be."