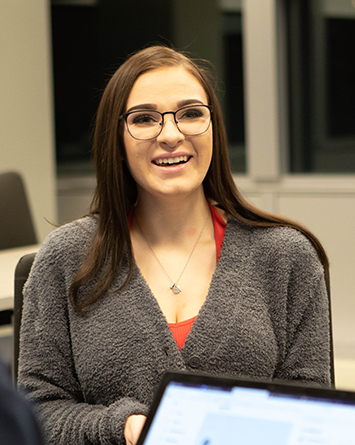 Fast Facts
Major: B.S. in Human-Centered Design and Development (Class of 2023)
Hometown: Milford, Pennsylvania
Favorite thing about IST: How much power it has to make a difference in the current world we are living in today.
Favorite thing about Penn State: The people. I wouldn't have been able to do everything that I have done without the constant support of my Penn State family who will be my lifelong friends.
Most memorable Penn State moment: It has honestly been my entire first year at Penn State as a whole. I have really surprised myself in my abilities and I feel very lucky to be in this environment.
Favorite Creamery flavor: Strawberry!
Not only is Lauren one of the first students in the College of IST's Human-Centered Design and Development degree program, but as a first-year student she also helped to form and was elected president of the Penn State chapter of the User Experience Professionals Association (UXPA). Her leadership in the organization connects students to the leading international professional association through local educational, professional, and practical opportunities including project management, design, development, and other user experience practices.
Female leadership in tech
When she first came to IST, Lauren knew that she wanted to become involved outside of the classroom. So, she got involved with UXPA. She had no idea she would become a leader so soon in her college career, but Lauren has found how the experience is positively impacting her—and empowering her to inspire other female technologists.
"I've experienced so many setbacks in school. People say, 'You program? You're in technology? That's weird, you don't look like you are because you're a girl.' Women are still a significant minority in technology careers, and so many of them end up leaving the field because they are intimidated by that. I just want to break the mold and just show people that I can do it."
Inspiring others
Being a lifelong fashion lover, Lauren can combine creativity with technology through the HCDD major. Her goal is to show others—especially other women—that it can be done.
"Working with little girls has always been my drive. I have to do this for them, I have to show them that they can succeed. I feel like if the youth are taught by women in technology, they're never going to think that we can't do it or that it's only for guys."
Leaving a legacy
UXPA started as just an idea at the start of Lauren's college career, but she has already shaped it into a professional club that is helping to solve real-world problems.
"When I leave Penn State, I want to be able to think, 'We started this as nothing, and now it's this.' That's just going to be the most rewarding thing—when I'm leaving and it's still there, it's still going, it grew, and we put in all the work. It's going to be great to see this really pay off."