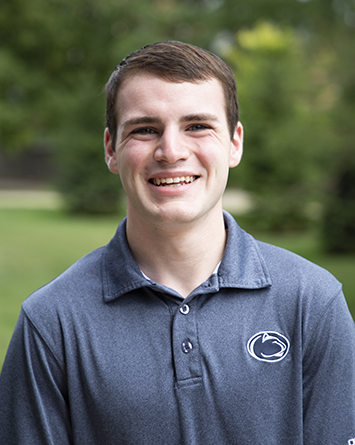 Fast Facts
Program: B.S. in Human-Centered Design and Development (Class of 2022)
Hometown: Bensalem, Pennsylvania
Favorite thing about IST: The material in classes and opportunities available to all IST students.
Favorite thing about Penn State: The campus and location. Centre County and Penn State are beautiful! Walking around the buildings are amazing, and the view of Tussey Mountain is beautiful in the wintertime. At first campus feels big, but after my first semester, it felt like the perfect size.
Most memorable Penn State moment: A tie between the 2019 whiteout football game vs. Michigan and the Penn State men's basketball beating Iowa at the Palestra in Philadelphia.
Favorite Creamery flavor: Lion S'more or Death by Chocolate. I can't choose one!
After working as a karate instructor in high school, Jimmy knew he wanted to continue developing his public speaking and teaching abilities during his time at Penn State. By becoming a College of IST learning assistant (LA) and an IST Peer Tutor, where he served as the program's co-coordinator, Jimmy has been able to sharpen those skills and become a leader.
Teaching and helping others
As an LA, Jimmy attends each lecture for his assigned course, answers students' questions, and works closely with the professor to recap each day's material. He also helps to grade assignments and provide feedback to students. As a tutoring co-coordinator, he encourages students to attend the college's weekly tutoring sessions where he helps them to understand concepts and build strong learning habits. He also works closely with other learning assistants to make sure the program is the best it can be.
"Sometimes, students do not feel comfortable going up to a professor and asking for help. However, in my experience, students are more comfortable talking to an LA. These conversations are not always related directly to the class; I've been asked questions about other classes I've taken, internships I've had, and other aspects about Penn State. Professors may not be able to answer questions from a student perspective, and that is where an LA can be even more valuable."
Personal gain
Jimmy says that he enjoys helping students succeed during their time in the College of IST, but his involvement as an LA and tutor also has personal benefits for him.
"Between the 40 students in the class for which I'm an LA and the hundreds of students who take part in the tutoring program, I have gotten to know many people across the college. I remember my first IST class freshman year and I did not know anyone. But now, after just a year of being an LA, I know at least half the students in my classes. It's an amazing feeling to walk around Westgate Building and bump into so many people I know and now consider my friends. And even though I don't directly teach material, being able to explain it in different ways has helped solidify my knowledge from previous classes the more I help others with it."
Taking an interest
Through his experience, Jimmy advises students to take a genuine interest in their coursework to engage them in what they're learning. It is important, he said, that students find a way to incorporate the material they're learning in the classroom in a way that could impact them in the years to come.
"It may seem hard at first, but once you do, you can take the material you learn and apply it to your area of interest. I'd also recommend doing projects outside of class to cement old and new material. You never know when that information may be helpful in a future class or internship."