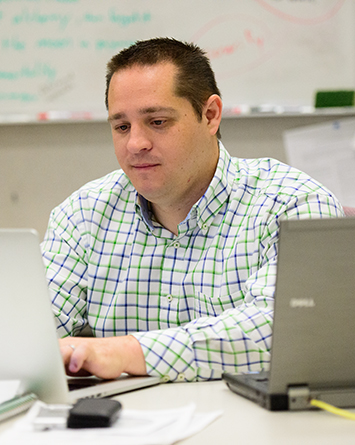 Fast Facts
Program: B.S. and M.S. in Information Sciences and Technology (Penn State World Campus); Currently pursuing a Ph.D. in Informatics
Hometown: Kings Mountain, North Carolina
Favorite thing about IST: The interdisciplinary work that impacts and influences local and global communities.
Most memorable Penn State moment: Passing my Ph.D. comprehensive examination was one of the most impactful. At the time, I was just coming out of a very rough time of my life—my dad had recently passed away. It was a bittersweet moment that was part elation and relief, and part sadness that my dad wasn't around to congratulate me.
Favorite thing about Penn State: The resources the University provides are world-class and there is such a sense of community globally.
Why Penn State?
After earning his bachelor's degree in IST through Penn State World Campus as an adult learner while working full time in North Carolina, Jamie landed a web developer job at Penn State. When he realized he wanted to pursue a master's degree, he knew the College of IST and World Campus were the right fit. Now, as a lecturer in the College of IST, Jamie is pursuing his doctorate in informatics at University Park. He is proud to be close to holding three Penn State degrees and is honored to be learning from some of the leading thinkers in the industry.
"Being at the College of IST and Penn State provides you access to this wealth of knowledge and to a world-class set of researchers. Not only do they lend their expertise and their wisdom, but they help students achieve greatness through their own experiences. We're able to tap into that, and that's impactful both from an academic standpoint and a personal perspective. We're able to rub shoulders with these innovative leaders in their respective fields, and we get to work right alongside them pushing their research agendas forward. That's very beneficial to us not only in our careers, but also to the world at large. As graduate students, we get to stand on the shoulders of giants. That's an amazing thing."
Addressing real-world problems
Jamie's research focuses on designing a training process for 911 operating centers. The goal is to help operators become comfortable with improvements to rapidly evolving technology.
"Whether people know it or not, they're in the process of integrating social media into what they do in these operating centers. So, the people that are answering the calls and dispatching the resources are often scared of what's coming. They don't fully understand it; they don't really know how it's going to impact them. It's one thing to be on the phone and hear traumatic situations that people are going through but it's entirely different to see it in a picture or see it in a video from social media. Their pay is low, the job is stressful. It's a real problem. I want to, hopefully, address some of that through my research."
Improving emergency response
While Jamie's work could make a positive impact on 911 operating centers, the work impacts him, too. He gains a sense of satisfaction from helping first responders use technology to make a difference for their communities.
"I've definitely gained an understanding and a deep appreciation for first responders, crisis management, and all that goes into helping people. The passion that they have for the job they do is so very evident. They're dealing daily with other people's traumatic situations, so the stress level is high. Yet they do it, day in and day out, and provide that service to their communities. The research we do not only helps them do their job and integrate technology in meaningful and impactful ways, but it also has a broader impact on the community. We're helping operators serve communities and respond to crises more efficiently and appropriately."