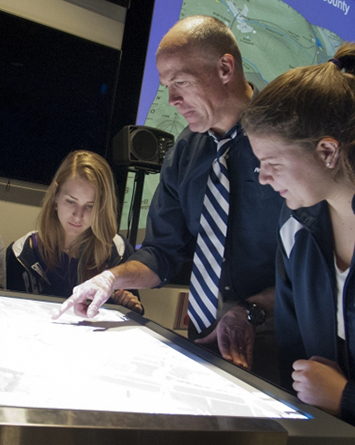 Fast Facts
Position: Professor of Practice
Hometown: State College, but before that, it was all over the world. I grew up and went to school in Harrisburg, Pennsylvania.
Favorite thing about IST: The sense of community. IST is this little island in the middle of this huge University, and we all have a common identity in IST.
Favorite thing about Penn State: The shared identity. If you go anywhere in the world and you see a Nittany Lion, the first words that are going to be spoken are "We Are." I was with the men's volleyball team two summers ago in Italy, Serbia, and Croatia. We would be in line somewhere or walking down the street, and people would come up without any identifying marks and see our logo, and "We Are" is the first thing they would say.
Most memorable Penn State moment: When the very first student that I recruited and brought onboard received their Ph.D., which has now actually happened a few times.
Retired Col. Jake Graham has a storied military background, spending more than 26 years in the Marine Corps with numerous distinctions. During his military tenure, he was part of a number of aviation units, including Marine Helicopter One (Executive Flight Detachment) where he flew as a co-pilot for President George H.W. Bush and as the pilot-in-command (Marine-1) for Bill Clinton.
Becoming an educator
After retiring from the Marine Corps in 2007, Graham settled in his wife's hometown of State College. Before making the move, Col. Graham began exploring new career opportunities. During a conversation with leaders at the fledgling College of IST, Graham asked if Penn State had a plan if it was faced with a mass shooting, similar to what had recently happened at Virginia Tech. The conversation that followed eventually led to Graham being hired to help model the college's Security and Risk Analysis program, which was under development at the time.
"I had done some teaching in the Marine Corps. I was a flight instructor for years and had done some teaching at our Officer Basics School, which is a six-month finishing course for Marine Corps officers. My wife and I were both on the staff there. I enjoyed that, but I'd never envisioned myself actually doing it full time as college faculty."
Bringing military expertise to the classroom
Taking skills and techniques he's learned from the Marine Corps, Graham aims to make his classes interactive and hands-on.
"IST has developed a framework of problem-based education. And with problem-based education comes very realistic problems and team problem solving, which is a hallmark of the College of IST. In my classroom, I incorporate all the tenets of the typical IST program. Then, in an effort to add a little more dynamic and interactive team setting, I create scenarios and exercises that put the students in a particular role-playing setting where they have to assume the persona of an analyst of a certain type of agency, or to address a certain type of problem. Finally, we work through multi-day, and many times, multi-week exercises. That's something I brought with me from the military that I was able to apply directly into the classroom."
Preparing students for industry
Graham has seen first-hand how the college prepares its students for success in their careers: he has written countless letters of recommendation for IST students and alumni seeking positions in the field—and has wholeheartedly endorsed them based on the skills they've developed in the college and strengthened throughout their careers.
"Students are not typically going to be hired for their knowledge; they're going to be hired for their potential. It's that potential that IST taps into by exposing students to different ways to approach and solve problems—the security and risk analysis program teaches students to think critically. Agencies and companies who hire our students hire them for their ability to address real problems. Employers are going to teach them how they want them to do things, but they want workers to show up with the ability to think on their feet—especially if they are good team problem solvers and are good writers and can facilitate a discussion. IST prepares its students with all of that."