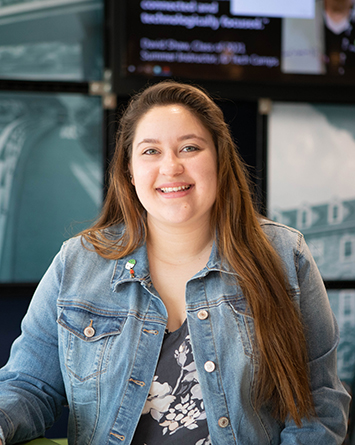 Fast Facts
Program: B.S. in Information Sciences and Technology (Class of 2020)
Hometown: Hampton Township, Pennsylvania
Favorite thing about IST: Meeting all the cool, interesting, and unique professors at the college. Shout out to Nathan Aileo, Fred Fonseca, Amy Garbrick, and Rosalie Ocker. I highly recommend taking any of their classes!
Favorite thing about Penn State: Being a part of the Penn State Marching Blue Band.
Most memorable Penn State moment: Finding out I got an internship with PepsiCo in their IT department. I called my parents to tell them the good news. Then I emailed Rita Griffith in the Career Solutions office to thank her for all of the hard work she put in to helping me get to where I am now.
Favorite Creamery Flavor: I'm lactose intolerant, but when I do have any I go for Bittersweet Mint.
As a sousaphone player for the Penn State Blue Band, a teaching assistant in the University's sociology department, and a student worker in Penn State's South Food District, Heather VanGorder had a very busy schedule as a student. When she first learned of the College of IST's internship requirement, she was nervous about finding the time to seek out, prepare for, and complete one. But as she went through the process, she learned how an internship would position her for career success.
Taking the next step
Heather is putting what she's learned to the test as a virtual intern in the information technology department at PepsiCo. And she's found that her initial concerns about completing an internship were no match for the benefits of the experience.
"Now I'll have a one-up. I'll have experience and the opportunity to work with professionals on real-world projects. You're more likely to get hired if you've had a bigger, better experience than just saying 'I went to college.' "
Preparing for a professional role
At the College of IST, Heather built a relationship with her academic adviser, who guided her on which classes could help her meet her academic goals. She also took advantage of the many resources offered through the college's Office of Career Solutions and Corporate Engagement, such as getting help to create a LinkedIn profile, updating her resume, and networking with recruiters at the IST career fairs—which, she says, was not an easy thing to do.
"It's not easy to give a small pitch to someone who is ultimately the deciding factor on if you'll move forward in the process. But having the opportunity to talk to a number of recruiters at an IST-specific career fair each semester is good practice for perfecting that pitch. It will help you to relax and be yourself."
Work hard and play hard
In addition to tapping into the college's career resources, Heather says that faculty are a great reference for professional development. She has learned a lot about her instructors' past industry experiences and has asked several to write her letters of recommendation. And while she's putting in the effort to build relationships that can help her prepare for her future, Heather knows the importance of balance and self-care in achieving success.
"Quality is always key. You want to work hard and put your time and effort in, but you also need to have fun. Find a club or activity to join. It will be a great experience, and you never know what new friend you'll meet. My life as a college student has been phenomenal, and I owe it to my friends. They are the ones that have allowed me to succeed and to still have fun with my busy schedule."