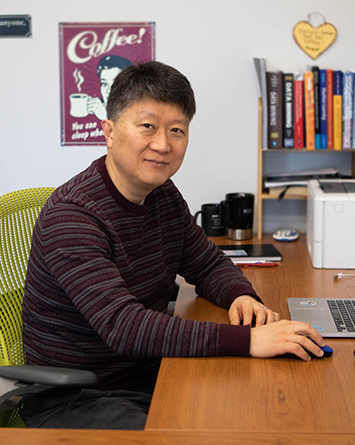 Fast Facts
Position: Associate Professor of Information Sciences and Technology
Hometown: Taegu, Korea
Favorite thing about IST: Colleagues with diverse backgrounds and expertise.
Favorite thing about Penn State: Mixture of the relaxed college town living as well as world-class research-intensive institution.
Most memorable Penn State moment: When we beat Ohio State in football in 2016.
Favorite Creamery flavor: Peachy Paterno
Dongwon Lee's research is focused on problems at the intersection between data science and cybersecurity. He collects large amounts of data to unearth patterns that could be helpful to model security issues and uses data science and machine learning methods to build automatic detection mechanisms to find cyber frauds or fake news.
Making a global impact
Fake news, or deliberate misinformation, has become widespread on social media and online platforms. Lee's team is studying the computational ways to detect fake news and the human factors that surround it.
"Since 2016, we've seen a lot of buzzwords surrounding fake news, and this has become quite a big issue. And now it has gotten to the point that it is undermining our democratic system and causing severe disruptions in society. It used to be that when someone read something in the newspaper, they knew it to be true. Now that is no longer the case—seeing is not believing anymore. At IST we are only looking at a small subset of the problem, but nationwide we have many researchers working on this problem together. Once we come up with better solutions to detect and mitigate the problem of fake news, we will be able to help maintain the ecosystem of trust."
Working together to solve big problems
Lee said that some of society's biggest and most technically challenging problems can't be solved by a single discipline. The College of IST and Penn State provide him with opportunities for interdisciplinary collaboration with experts both within the University and at institutions around the world.
"Certain research problems have gotten so complicated that multiple diverse facets of expertise are needed. In my current projects, for instance, I'm in collaboration with individuals in the Bellisario College of Communications and with an expert in the College of IST who has a psychology background. Those collaborations will help me solve a bigger problem than I could not otherwise solve on my own."
Guiding the next generation
In addition to advancing his research, educational programs and workforce development are Lee's other key interests. Currently he oversees the college's Scholarship for Service program, which is funded through the National Science Foundation in collaboration with the Department of Homeland Security and the Office of Personnel Management. The program offers full tuition and a stipend to talented students in exchange for service in the federal cybersecurity workforce.
"This is quite a prestigious and competitive program, through which I've been able to recruit and train many bright Penn State students. Some of them obviously know about the career trajectory to the cybersecurity profession, but others with backgrounds like political science or psychology have gone into cybersecurity thanks to this program. They got involved, they got trained, and now they have new expertise that they can contribute to the nation."