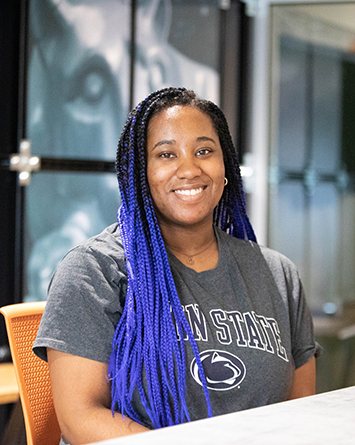 Fast Facts
Program: B.S. in Security and Risk Analysis (Class of 2022)
Hometown: Bowie, Maryland
Favorite thing about IST: The Office of Inclusion and Diversity Engagement is so helpful and willing to listen to any problems I may have or connect me to anyone inside or outside the college. They have really made me feel at home in the college and support me in my classes, my future career, and any situation I need help in. They always check up on me and I know that I can count on them to help!
Favorite thing about Penn State: The amount of research that students of any class level can do! I was able to get into a research lab in my sophomore year and found an amazing mentor, Dr. Lynette Yarger, who has been teaching me so many tools and techniques for conducting a research project. I also recently received an Erickson Discovery Grant to conduct my own research over the summer.
Favorite Creamery Flavor: Chocolate Chip Cookie Dough
As an underrepresented student, Courtney Smith says she was attracted to Penn State because of the amount of support she knew she would get through classes, career experience, and involvement opportunities. She chose to pursue a degree in the College of Information Sciences and Technology because of the hands-on classes that apply skills to real-world situations. Those experiences led to opportunities to work with real companies through internships, and Courtney recognizes that the skills she's gained will help her to thrive in the workplace after graduation.
Building a community
Soon after arriving on campus, Courtney joined the Women, International, Racial, Ethnic Diversity Intercultural Network (WIRED IN)—a student organization that aims to bring together diverse students within the College of IST. The organization has helped her to strengthen her community, as well as introduced her to students from other backgrounds.
"We try to find people that represent different, diverse groups. So, it's not just racial diversity, or gender diversity, but also ethnicity as well as sexual orientation. Anybody can join WIRED IN. We just want to bring students together and have a safe place to meet other people from different backgrounds with similar experiences on campus."
Professional development
Along with the social benefits, members of WIRED IN are also able to strengthen their professional skills. With a significant diversity gap in the tech industry, the College of IST emphasizes preparing students for an inclusive workforce. The college also encourages students from underrepresented backgrounds to network with representatives from a variety of companies, allowing them to make professional connections in a more personal setting.
"We try to bring different companies in to speak with us. Representatives from PwC came to a recent meeting. Last year, we had diversity luncheons with different companies like Google and Microsoft. We also do professional development workshops where we work on resumes."
Future connections
Courtney says being involved in the College of IST community not only allows students to gain leadership and classroom skills, but it will also help them succeed after they leave Penn State.
"Getting involved is a way of connecting with other people while also improving your skills. We're always told to network with everyone. You never know where your peers will end up and how you can help them or how they can help you."