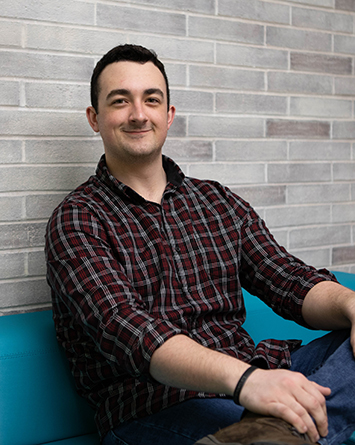 Fast Facts
IST Special Living Option Recruitment Chair
Program: B.S. in Security and Risk Analysis (Class of 2022)
Hometown: Beavercreek, Ohio. But as a military kid, I've lived in multiple states and even another country, so home is really where I make it.
Favorite thing about IST: The relevance of the curriculum to real-world applications, and the generous support and mentorship from faculty that helps students succeed in and out of the classroom through valuable and lasting relationships.
Favorite thing about Penn State: The amount of diverse and inclusive student organizations. It's through these organizations that I've learned, shared, and contributed to truly become a part of the Penn State family.
Most memorable Penn State moment: My first class in the Cybertorium. It's just such an impressive room in both its size and use of technology.
Growing up in a family of Nittany Lions, the choice to come to Penn State felt right for Connor. With a father in the military, he had exposure to what an intelligence career could look like, and he quickly became interested in the college's security risk analysis program. After learning more about the programs, connections, and resources available to College of IST students—and upon learning about the college's Special Living Option—he knew Penn State and IST were the right fit for him. Now on campus, Connor serves as the IST Special Living Option Recruitment Chair.
Building community
Members of the Special Living Option live on a floor in West Halls Residence Area, the on-campus residences closest to Westgate Building where the majority of IST classes are held. But the SLO is more than a place to live. It's a community of students who learn, network, and socialize with peers they interact with in the classroom.
"The SLO is a floor of individuals with similar interests and different perspectives. There are events that help teach the younger students about new classes and new professors, giving them a head start and helping them to succeed. And my favorite part is that the upperclassmen are always willing to help. It's a community, where if you want to be part of it, you're joining a network where we all help each other succeed."
Enhancing the classroom experience
Class advice, studying help, student mentors, and a yearly networking trip are among the activities that SLO members participate in. Connor says those events are just a few of the ways that the organization has benefited him.
"We have things called Tech Talks, like Ted Talks, but they're related to IST topics. For instance, one of our members did a talk on Tableau and how to use that. That helped a lot of students in a particular class understand the different mechanisms that you can use within that program."
Beyond educational benefits
From pizza and movies to karaoke nights, there is a full social calendar of activities for when SLO students need a break from studying. The close connections with like-minded students build strong foundations that will last long after graduation.
"It's really good to have a tight-knit social community your first year, and from there you continue strengthening existing friendships and forming new ones. It's nice to have that community interaction, and even if you're not going to live at the SLO the entire four years, it's a good initial boost to make friends and find your place at Penn State."