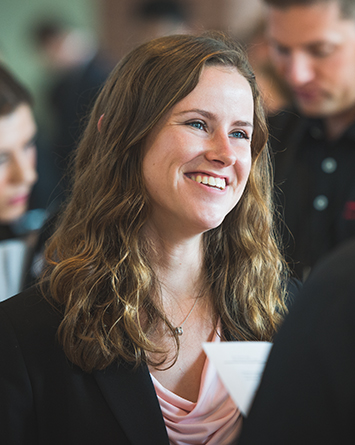 Fast Facts
Current Role: Emerging Leader 1, Geico
Program: B.S. in Security and Risk Analysis and Spanish (Class of 2019)
Hometown: West Grove, Pennsylvania
Favorite thing about IST: The vast support system from faculty, staff and fellow students.
Favorite thing about Penn State: There's something for everyone.
Most memorable Penn State moment: Graduation!
Favorite Creamery flavor: Chocolate Chip Cookie Dough.
Though Annie just graduated from the College of IST in 2019, she is already polishing her leadership skills at Geico as part of the company's emerging leaders program. Annie says that activities and opportunities provided to her while a student at the College of IST, as well as extracurricular activities that she sought to add to her resume, helped her to become a qualified candidate for the program.
An emerging leader
The three-year program gives entry-level employees in-depth exposure to all areas of the company through six rotations. She recently completed her first six-month rotation on the cybersecurity team.
"The purpose of the emerging leaders program is to gain an idea of what leadership is like. You start each rotation as an analyst, then a project manager, then in a developer role, then in high level leadership roles. You get to go to leadership conferences to meet with senior management. You get into the details of what your teams will be doing, then step into the leadership role and the strategic goals of how the company wants to move forward, and tie what you're working on into those goals. The goal of the program is to create supervisors of teams. The emerging leaders will hopefully move on to be managers and directors within the company."
Stepping outside of your comfort zone
Annie notes that the foundation she built at the College of IST was instrumental in helping her secure her role and enhancing her ability to successfully navigate the various focuses of each rotation.
"The College of IST gives you broad knowledge of information technology. I came into this program with an advantage of being able to speak to areas I didn't major in. That was extremely helpful. The college also gave me a lot of opportunity to understand networking and how to act in a professional setting. There were opportunities to practice public speaking, participate in networking, and learn how to navigate a professional social event through etiquette dinners. I was pushed out of my comfort zone, which has been beneficial to me at the start of my career."
That confidence helped Annie, a new employee, to feel comfortable sending an email to the vice president of IT at Geico to request a meeting.
"I've learned to not be afraid of the title. He's a human being, and he wants everyone to succeed. Everyone you work with is moving toward the same goal and by educating you, they are working toward that goal. I got so much knowledge and experience from that 30-minute meeting."
Being an active participant in your own journey
While Annie recognizes that the College of IST offered numerous opportunities to help prepare her for her career, she acknowledges that she, as a student, had to actively participate in those opportunities to stand apart from other candidates during the recruitment process. She served as president of the IST Diplomats, on the Future Forum committee, and as a learning assistant and IST Peer Tutor while balancing a full course load and holding a part-time job.
"All the experiences that you can put on a resume will help you stand out, from the class projects and programming languages that everyone is required to complete. You're already getting the core knowledge at IST. When you add on the extracurricular experience, that is what will make you stand out."