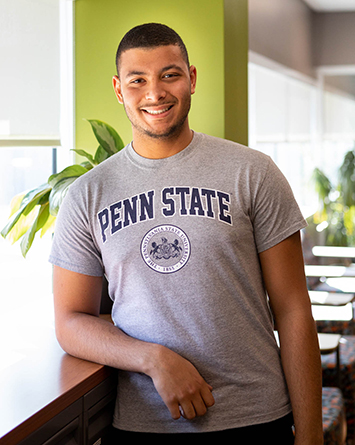 Fast Facts
Program: B.S. in Information Sciences and Technology (Class of 2022)
Hometown: East Stroudsburg, Pennsylvania
Favorite thing about IST: The sense of community. My favorite part of my day is walking into Westgate and seeing fellow IST students and professors. Everyone is so welcoming and friendly, and it really feels like its own family-like community within Penn State.
Most memorable Penn State moment: It was actually something that happened to me before I was a Penn Stater. I was visiting the College of IST for Explore IST Day, thinking that we were coming to learn about computer science options. Upon learning about what the college offered, instantly knew I wanted to be a Penn Stater and wanted to study IST.
Favorite thing about Penn State: The strength of the community.
Favorite Creamery flavor: Monkey Business
Learning about the information sciences and technology program in high school, Andrew was thrilled to become a part of the college's close-knit community. He got involved in several extracurricular and experiential activities early on—including being selected for an IST-sponsored trip to the ACM Richard Tapia Celebration of Diversity in Computing Conference in San Diego his sophomore year. The annual conference is the premier venue to acknowledge, promote, and celebrate diversity in the industry.
Applying what he's learned
During the trip, Andrew was able to network with other students, faculty, and professionals from around the world, allowing him to discuss concepts he'd learned in the classroom in real-world conversations.
"Meeting and speaking to professors from other universities and people who research important and interesting topics was a major benefit of attending. It's cool because they talk about it in a way that you can understand, so you really understand just how much you've learned. You can gauge that by looking at a test score, but it's much different than going out and speaking to people about how they use the things we learn about in class."
Gaining confidence
Attending early in his college career, Andrew wasn't sure what to expect at the Tapia conference. But the growth that he made personally, professionally, and academically during those few days was monumental.
"Everyone talks about imposter syndrome, especially in technical roles, and this kind of cleared that out of my head. I had opportunities to interview with companies on site, and I think that opened my eyes to the fact that even though I was only a sophomore, I had the skills necessary to take on these positions. I gained that sense of confidence in knowing that I have what companies are looking for."
Charting a path for the future
Andrew encourages other students to take advantage of professional development experiences offered at the College of IST because of how these activities can shape their future careers.
"It's important we have these opportunities because it lets us see where we could be after we graduate. When I get a job, I want to do something that I love. So, these opportunities help us to see how much people working in the industry really love what they do, and what they're doing with things they learned in school. And then we can get ideas about what we're thinking about doing and how we can map out our path to get there."