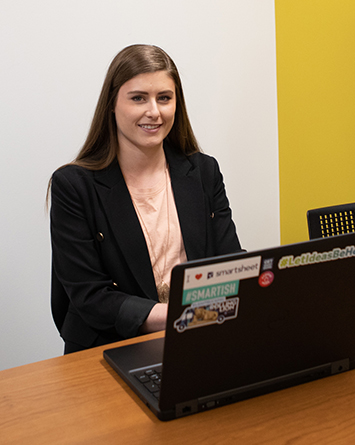 Fast Facts
2019-2020 Chair, IST Staff Advisory Committee (SAC)
Position: Education Program Assistant, Academic Services Operations
Hometown: State College, Pennsylvania
Favorite thing about IST: My collaborative and supportive coworkers, faculty, and staff.
Most memorable Penn State moment: Witnessing the renovation process and moving into the Westgate Building's new first floor Academic Services suite.
Favorite thing about Penn State: Student-run and community-supported initiatives. I am a huge supporter of THON, and over the past year, I've been loving the Rolling Lion food truck. I'm currently looking forward to getting my produce seedlings from the Penn State Student Farm.
Favorite Creamery flavor: Peachy Paterno or Bittersweet Mint
After serving as a member of the College of IST Staff Advisory Committee (SAC), Alison Laninger was elected as group's chair, where she finds it rewarding working with other members to promote initiatives that improve the relationship among college faculty and staff while fostering a healthy work environment. SAC also serves as the bridge for communication between staff and the college's leadership on issues relating to policy, community building, and goals, and strives to continually strengthen the climate at IST.
Addressing needs
Through SAC, Alison leads the committee to plan events, activities, and initiatives that unite the IST community. Recently, SAC organized a Penny Wars fundraiser to benefit the student group IST Benefiting THON; collaborated with the college's Inclusion and Diversity Action Council to host a cultural potluck luncheon; and welcomed new staff members during monthly breakfasts. The committee encourages feedback from the entire staff community.
"We're a really welcoming group. We want to hear people's thoughts and opinions if they have anything that they want to bring to the table or present to the college. We want people to submit ideas and give us feedback because the more we receive, the better we can improve what people are looking for and address their needs."
Fun with a purpose
According to Alison, SAC aims to engage faculty and staff in a number of social activities throughout the year. While the goal of these events is to build community and provide engagement opportunities, SAC initiatives also benefit the college, the University and the local community.
"We host events like the new hire staff welcome breakfast every month, there are things geared towards helping our student population with their initiatives, and we also host a unit spotlight series. We focus on each staff unit within the college and ask them to present about who they are as individuals and what they do for the college. The goal is to become a more integrated and collaborative environment."
A tight-knit community
As the College of IST continues to grow, continued efforts are made to ensure that the small-feel, tight-knit atmosphere remains. Events and initiatives are held regularly to advance the overall mission of SAC and to provide opportunities for faculty and staff from different units and different buildings to connect.
"We are ever-changing and growing in this college, so I like to think of our staff as being very flexible and willing to work through change. I really love that IST is a smaller, but growing, college and that we're a close-knit community. It's more of a family feel than a structured environment."