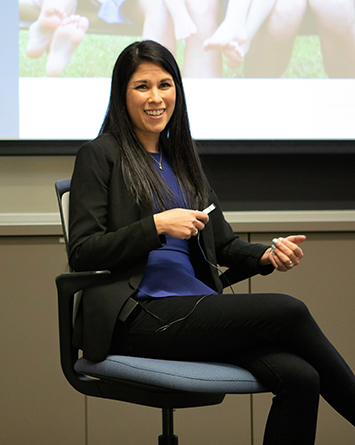 Fast Facts
Current role: Expansion Program Manager, Microsoft
Program: B.S. in Information Sciences and Technology (Class of 2005)
Hometown: I am originally from Hawaii, but I grew up in Altoona, Pennsylvania.
Favorite thing about IST: The push to grow across multiple dimensions as you tackle a problem using the diversity of team member perspectives.
Favorite thing about Penn State: The size and reach of our alumni network. Every time we travel, we wear Penn State shirts and always encounter alumni or fans.
Most memorable Penn State moment: Giving tours of the building to companies and prospective students as it was being constructed.
Favorite Creamery flavor: Cookies and Cream
Sharpening Skills through Active Engagement
To say Alison Flanigan was an engaged student is an understatement. She was the second president of the Women in IST student organization, a member of the IST Student Government, and a founder of the now-IST Diplomats. She also worked to fill the gap between the college's internship requirement for students and industry partners who are recruiting professional talent by helping to launch Pro Expo, IST's fall career fair. Now, as an alumna, Alison encourages students to make the most of their time out of the classroom.
"Being actively engaged during your college years is incredibly important to test run your leadership style and learn in a safe environment. Whether you are organizing an event or establishing goals and objectives for the school year, understanding how to organize, collaborate, problem solve, and accomplish are critical skills for your professional career. I'd encourage students to not overextend themselves in every activity; rather, they should think through which organizations have a vision and mission that aligns to the skills and experiences they hope to gain through the engagement."
Building the Experience to Stand Out
Alison's experiences prepared her for an impactful career, all while creating lifelong friendships and professional relationships. In her current role at Microsoft and in her prior experience as a cyber-project manager for Booz Allen Hamilton and IT consultant at IBM, she recognizes the importance of the well-rounded education IST provides.
"Employers will see hundreds of candidates as they assess their corporate talent needs. Being able to stand out with both internship experience and demonstrate the ability to balance school and extracurricular activities will help you to differentiate yourself. These experiences prepare you for the critical thinking, team dynamic navigating, and problem solving that you'll need in the future across any field or industry. It's an exceptional opportunity to hone these skills in a safe environment with the College of IST versus when first starting a career."
Paying it Forward for Women in Tech
Alison has been an advocate for women in technology since her time at Penn State. She and her husband, who is also an IST graduate, continue to support students by sponsoring IST students' attendance at the Grace Hopper Celebration for Women in Computing.
"All too often in my day-to-day life, I find myself as the only woman at the table, surrounded by my male colleagues. We need more diversity at the table to continue to innovate and push novel solutions. The primary reason for sponsoring experiences for IST students was to give aspiring women in technology the chance to meet and engage with other women in technology, build relationships, and know that there are others just like them in the field crushing it every day."